ROD
Tuesday, 29Mar11
Kettlebell Two Minute Torture
On the 2 minute mark for 20 minutes, do…
   5 Burpees
10 Kettlebell High snatches 
15 Mountain climbers
20 Kettlebell swings
__________________________________________________________________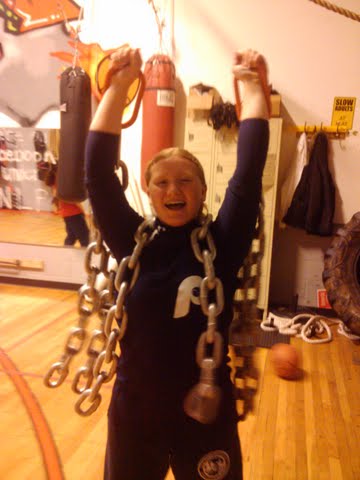 Jaime is an eleven year old softball athlete that has been training with us since the latter part of October. Yesterday, we recieved 2 sets of lifting chains. As I was putting them away Jaime asked if she could try lifting these chains. I was reluctant to let her try, but she finally convinced me. Here she is performing 1 of 4 Thrusters, with 3/4 inch, 5 foot long chains that weigh 30lbs apiece and one of them hanging on her neck, thats 90 lbs. of chain. I was amazed at how strong Jaime got, training with us. Go Jaime, you are the best.
__________________________________________________________________
Moore junior
Maxine Jasko
leaves a lasting impression
Charlie De Biase Jr., March 28, 2011 12:36 p.m.
These young athletes that the Advance are referring to were trained at Nxt Level Performance. We are proud to say that these girls have noticed quite a difference in their performance on the field. It goes to show that strength & conditioning goes a long way. We are very proud of their athletic achievements. Read on…
St. Joseph Hill's Amanda DiPaolo collides with Moore shortstop Taylor Baggs on a stolen base attempt during the third inning. – (Staten Island Advance/Hilton Flores)
Maxine Jasko couldn't have left a better first impression if she scripted it herself.
The Moore Catholic junior made a memorable varsity debut, finishing 3 for 3 with two homers and six RBI to lead the Mavericks to an 8-7 CHSAA victory over visiting St. Joseph Hill yesterday.
"Maxine did a great job," said Moore coach Kristine Knuth, who batted Jasko third. "She's an impact player that makes things happen.
"Along with (clean-up hitter) Taylor Baggs, I think we've got a pretty good 3-4 combo."
The upstart Hilltoppers, who finished with 10 hits, grabbed a 4-1 lead after 2½ innings thanks in part to RBI hits by Victoria Procopio, Nicole Gundacker and Briana Stapleton, who had two hits apiece.
"I was impressed with our hitting today," said Hill coach Joe Wuensch. "If we had made a couple of more plays defensively (the rest of the way), things could have been interesting."
But after the Mavs cut their deficit in half via Baggs' third-inning RBI single, Krissa Sagona (second of two doubles) and Alexa Aliberti (single) opened the fifth by putting runners on second and third.
That brought up Jasko, who gave the Mavs the lead for good by depositing a Procopio pitch over the left-field fence to make it 5-4.
"I was just trying to put the ball in play," said Jasko, who also had a first-inning sacrifice fly and a third-inning double. "I worked hard all winter to get ready for the season.
"The pitch was right down the middle and to come through like that is a great feeling. It couldn't have been any better."
Not to an inning later anyway.
After Nicole DeMartino added insurance with a run-scoring double in the fifth, Jasko made it 8-4 an inning later when she belted a two-out, two-run homer to center.
"It's not suprising she's hitting the ball that hard or that she homered," said Knuth. "What does shock me is she homered twice in one game.
"She made great contact today."
Gianna DeCeasar allowed just one run on four hits in four innings of relief to notch the victory. She allowed just one walk with four strikeouts.
An error paved the way to a Hilltopper rally in the seventh, but DeCeasar limited the damage to help preserve the victory.