ROD   
Sunday, 28Mar10   
R-E-S-T Day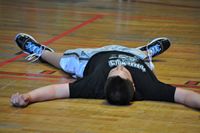 Alex is feeling the Post – NLP training syndrome

Box Squatting   
By: Louie Simmons
Box squatting is the most effective method to produce a first-rate squat. This is, in my opinion, the safest way to squat because you don't use as much weight as you would with a regular squat. 
Let me say first that, no, they won't hurt your spine, you don't use1000 lbs. on a 25 inch tall box, you don't rock on the box, you don't touch and go, and there is no need to do regular power squats before a meet. No knee wraps are worn nor are the straps of the suit pulled up.

Continue reading…

   
Athlete of the Month   Nick Coudakis
            When Nick came to us back in December his athletic abilities were, let's say, less than average. Nick was not capable of doing a squat nor did he have the flexibility to perform a bear crawl. He was a slow runner and always was last in any activity.                
             As his determination and motivation grew, Nick pushed himself to his limits. He worked harder and was pushed more than any other athlete on the roster. His benchmark came when he went from barely jumping on to an 8″ box to jumping at a height of 28″ inches with air to spare. He has come down in weight and is faster and stronger than when he started our program. Nick has shown us what a motivated athlete could accomplish. Thank you Nick, we've learned more from your determination and drive than we could ever imagine. We are happy that you have chosen NLP to be part of your athletic success. We know that you will excel this summer playing baseball.    We also want to thank Nick's parents for there dedication, commitment and trust in our program.