ROD
Friday, 22Oct09
"Christine"
3 rounds for time:
500m row
12 body weight dead lifts
21 box jumps
 Here are some pics from last night's routine: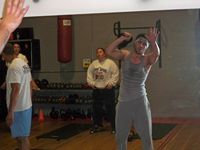 was not an e-z part of the ROD  

The community around NLP are starting to notice the value of  High Intensity Training. We are now up to capacity in our Tuesday & Thursday classes and we will now be forming classes on Monday's & Wednesday's. We will be posting the new hours soon!!  Also on selected Saturday's we will be holding Essential Workshops. 
The workshop is designed to take you through the basics of the H.I.I.T exercises and prepare you for moving into our regular group classes with a firm grasp of the movements and scalable modifications for the exercises. The Essentials Workshops will meet on scheduled Saturday's. Each class will be approximately 3 hours. Enrollment will be limited to 8  individuals per workshop to ensure more personal attention. The cost of the workshop will be $30 per person for the day. No Exceptions. Attendance at all classes is absolutely mandatory to ensure safety, knowledge and skills of all movements involved on our ROD's.
 ______________________________________________________________________________
                                   N.Y. Panthers – Fast Pitch League
We are also happy to announce that we have teamed up with the N.Y. Panthers, a talented womens softball team. These players range in ages from 13 – 19 years. This is a fast pitch league. They will be going through our high intensity interval training and also our Speed, Agility & Quickness program. If you think these young ladies are good now, just wait till we put them through the training program here at NLP. We would like to thank Head Coach Bill Bennett, who recognized the value and the integrity of the training program at NLP. Together we will ensure that we will not fall short, but put forth the best for these young women to play at their optimal level.
                                   Go Panthers!!