ROD
Sunday, 07Mar10
R-E-S-T Day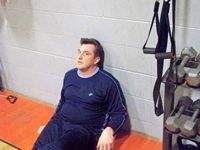 Results of yesterday's workout;  Insanity Saturday
Chris : 13:20
Juan : 13:55
Joe: 16:20
Pauline: 17:04
Tom: 18:26
These numbers in no way reflect who is better, but a PR (personal record). Our workouts and encouragement will make these numbers change so that future PR's improve with continued participation in this program.
Here are a couple of interesting articles you should read.
"Aspirin: A Blockbuster Therapy for Breast Cancer Survivors?" by Dr. Bernadine Healy, US News and World Report.
"It's Exercise in Disguise" – CrossFit Kids at the Arnold, by Josh Jarman, The Columbus Dispatch.