ROD
Monday, 31May10
Memorial Day
"Reflections on Memorial Day" by Mackubin T. Owens.
"Fallen but Never Forgotten," a CrossFit Journal article.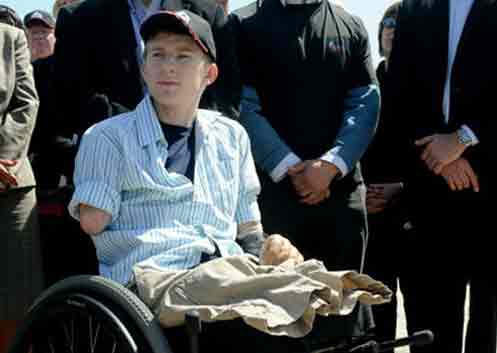 Spec. Brendan Marrocco, 23, of Staten Island
A Staten Island veteran who lost both of his arms and legs in Iraq is coming back home – and he'll move into a brand new house courtesy of his community. The Stephen Siller Children's Foundation and Building Homes for Heroes are teaming up to build a state-of-the-art, wheelchair accessible home near Wolf's Pond Lake for Spec. Brendan Marrocco. "I don't think I could ever really thank them," said the humble 23-year-old vet from Huguenot. "I'm excited, I've never had a home to myself," Marrocco said.
Just last Easter, Marrocco was hit by an explosively formed projectile, a deadly and powerful new device that can pierce armor. A fellow soldier was killed in the attack. He's believed to be the only quadruple amputee to survive the wars in Iraq and Afghanistan. Marrocco has been recovering at Walter Reed Army Medical Center in Washington, D.C., and was fitted with prosthetics. "I've really taken some great strides," he said. Marrocco is learning to walk again on special prosthetic legs and hopes to have arm transplants. He said moving back home is a real motivating factor in his recovery. "It gives me another goal to work toward," he said. And the war hero won't be living alone – his fiancee, Kate, will enjoy their new home together.
"I'm so happy to find somebody to really care about me," he said. "You don't think you're ever going to find that."
The Army vet is a big fan of car racing and hopes to one day have a race car of his own.
"Who are we to say you can't do anything?" said his proud dad, Alex Marrocco. "It's been a roller coaster, but you try and focus on the positive."
"Brendan has given so much for his country and has sacrificed so much that it is our duty – whether civilians or veterans – to give back to him," said Frank Siller, whose firefighter brother, Stephen, was killed on 9/11. "We can never give back what he has given to us."
____________________________________________________________________
DJ Wickham, 220lb snatch complex from the Canadian Regionals – video [wmv] [mov]