ROD
Tuesday, 16Nov10
Walk in the Park
6 Rounds: 1 minute rest between rounds
30 second intervals moving non-stop from station to station:
Reclines
Burpees
Kettlebell single hand alternating swings
Mtn Climbers
Double handed dumbbell snatches
Single leg dumbell squats
________________________________________________________________
"The future belongs to those who believe in the beauty of their dreams"
___________________________________________________________________
Dangerous Drinks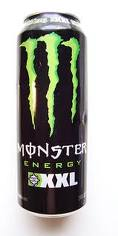 Red Bull, Monster, Rockstar. These drinks are everywhere. Grocery stores, gyms, gas stations, and even school vending machines. Unfortunately, these drinks are quickly getting in the hands of teenagers at an alarming rate. Especially in the hands of athlete's before a game.  A recent study found that 31% of teenagers in the U.S. drink energy drinks. This is 4 million more kids than 3 years ago. Many people simply don't realize what is actually inside these  "energy grenades".
Check out some of these nutrition facts on the popular energy drinks:
Sugar and Caffeine content in 1 bottle:
Red Bull: 27g sugar/80mg caffeine
Full Throttle: 52g sugar/ 144mg caffeine
Monster: 54g sugar/160mg caffeine
Rockstar: 60g sugar/160mg caffeine
Monster XXL: 81g sugar/240mg caffeine!!!
These crazy high numbers don't even include the other stimulants in the drinks that interact with caffeine. Stay away from these drinks and especially keep your kids away from them.
Still not convinced?? Check out this video on ESPN's E:60 of the dangers of energy drinks in sports.