ROD
Thursday, 31Mar11
Ready for Anything Training!!!!!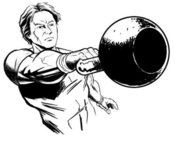 The circuit is as follows: all 90 second rounds no rest…  last 30 seconds of each round  "I say you do"
Bosu pushups w/clap 
Prone Hip pops
BAG
1/2 Burpees 
Bosu alt. toe touches
BAG 
Band Pull-aparts (10x chest/10x shoulders)
Lunge w/a high kick 
BAG 
Bench jumps 
Slam Ball 
BAG
 V-ups
 Alt. shoulder taps in pushup position
_____________________________________________________________
Here is another Nxt Level trained athlete in action:
St. Joseph by-the-Sea 11, Notre Dame Academy 0
Staten Island Advance, March 28, 2011 7:25 p.m.
Alexa Tedeschi tossed a one-hitter, striking out six and Kristina Mazzarisi had three hits and two RBI as the Vikings opened their season with five-inning mercy rule win at home.
Megan Seaman and Noelle Mulligan had two hits and two RBI each.
______________________________________________________________
Ohh Boy!! Here is another Nxt Level trained athlete making news. To think in January of 2011 Taylor was diagnosed with a SLAP tear to her pitching shoulder.  SLAP tear is an injury to a part of the shoulder joint called the labrum. The shoulder joint is a ball and socket joint, similar to the hip; however, the socket of the shoulder joint is extremely shallow, and thus inherently unstable. Well with proper training and strengthening at Nxt Level, Taylor has more stability and strength to accomplish below: Cudo's Taylor.
Sarcone powers Susan Wagner to 7-2 softball win at Petrides
Staten Island Advance, March 25, 2011 9:20 p.m.
Taylor Sarcone starred on the mound (complete game win) and at the plate (three hits, three RBI) in Susan Wagner's 7-2 win at Petrides. – (Advance file photo by Hilton Flores)
Taylor Sarcone was a one-player wrecking crew for Susan Wagner in its PSAL opener at Petrides on Friday.
The junior had three hits and three RBI, and pitched a complete game to lead the Falcons to a 7-2 win in Sunnyside.
Wagner, which was coming off a season-opening non-league loss to Moore Catholic, jumped ahead early with two runs in the first. Back-to-back singles by Danielle Locke and Kristine Ciurcina were followed by Sacrone's RBI ground-rule double and Dayna Williams' run-producing fielder's choice.
The Falcons added another two-spot in the fifth. Locke doubled, stole third and scored on Ciurcina's fielder's choice. Sarcone then doubled and would score on a Williams ground out.
Wagner broke it open in the seventh when Sarcone tripled in two runs and scored when the ball was thrown away.
Sarcone lost her bid for a shutout when the Panthers scored twice in the bottom of the frame, but she finished with a six-hitter and no walks, to go along with three strikeouts.
Note: We, at Nxt Level Performance, are very glad to hear that all of our athletes are doing so well. They are outstanding individuals and deserve the recognition they recieve for their individual efforts. They work hard in the gym so they can play the game they love with minimal risk of injury. So we want to give a shout out to Taylor and Alexa for a job well done.