ROD
Monday, 12Sept11
Monday Madness
Timed Pyrimad
30/20
40/20
50/10
40/20
30/20
Movements
Reclines
KB Cleans
DB Thrusters
Box Jumps
Bodybar get-ups
Figure 8 to a hold
_______________________________________________________________________
No Baby, Leave The Socks ON Edition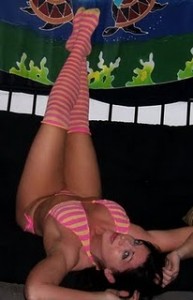 People occasionally ask what the deal is with the knee socks. Long story short, they began as a practical, utilitarian addition to the training wardrobe of Crossfit ladies. Their purpose: to protect the shins from being scraped raw by a barbell while deadlifting, etc. That's exactly the reason why most Powerlifting federations have adopted a rule requiring knee socks to be part of competitor's attire while contesting the deadlift (on a related note, if you bleed on a bar, don't just put it away for someone else to find when you're done-that's not hardcore, that's disgusting-bleach that sucker and scrub it down with a wire brush. Thank you.)
As often happens with things like this, a practical wardrobe choice has gotten personal, and become a fashion statement. And Coach D, not to mention most everyone else, is okay with that. This one's for you Chris Neese 🙂
_____________________________________________________________________________
5 Fun tips for Fall Fitness
(ARA) – With their kids in school, many parents pledge to take advantage of their family's new fall schedule by adding a daily workout to their routine. Here are five tips for making fall the most fit season of all:
1. Seize the moment: Time, or the lack of it, is often cited as the biggest challenge to sustaining an exercise regimen. When the kids return to school, what better way to use some of that precious time than getting in shape?
Your workout doesn't have to take a lot of time. Even a half hour walking your neighborhood pays off in increased energy and stamina. Most health-club aerobics classes are just an hour long, yet offer big fitness dividends. Taking care of yourself is one of the best things you can do for your family.
2. Enjoy the year's most beautiful season: In many parts of the United States, autumn is a near-sacred season, with its warm, sunny days, cool evenings and postcard perfect colors. Get outside and enjoy the season by bicycling, walking, hiking, jogging, and playing golf and tennis.
Explore parks in your area; find a new bike path through the woods, take a walk around a lake. The time spent out in nature will do as much good for your mind as for your body.
3. Return to your club or gym: It takes 30 days to make fitness a habit, and supplementing outdoor exercise with increasingly frequent visits to your health club will help diversify your exercise regimen and set the stage for regular workouts once autumn's leaves have fallen.
A well-rounded fitness regimen is important. While aerobic activity such as running or bicycling is good for your heart, resistance training is also a critical component of a balanced program, so be sure to take advantage of your club's weight lifting equipment.
4. An apple a day: In many parts of the country, autumn is synonymous with the apple harvest. Rich in antioxidants and flavonoids, both of which reduce the oxidation of LDL cholesterol, inhibiting the growth of dangerous plaques along blood vessel walls, and dietary fiber, apples are a delicious and nutritious snack that can be enjoyed any time of day.
Remember that each of us should be getting at least four to five servings of fresh fruit and vegetables every day. However, nine out of 10 Americans do not meet these recommendations. As a result, many people should consider some form of supplementation, according to Jeff Zwiefel, president of Life Time Fitness' Health Enhancement Division.
"While the goal for everyone should be four to five portions of fresh fruits and vegetables per day, many people simply do not have the time or opportunity to get there," said Zwiefel. "That's why Life Time Fitness has introduced a full line of supplements that have been specially designed to meet the unique needs and requirements of both men and women."
5. Make it social: One of the great things about exercise is that it doesn't need to be done alone. Find a friend with a similar fitness level and goals; having a partner helps you both stay motivated. You can use your exercise time to catch up on each other's lives.
Boredom is the number one killer of good health and fitness regimens. Exercising with a friend puts the fun back into your workout.