Staten Island Advance Article
If you read our article in the SI Advance and want to know more click on GETTING STARTED if you dare.
Staten Island's Next Level Performance caters to hard-core exercisers seeking an alternative to the average gym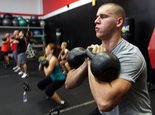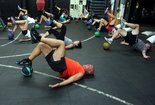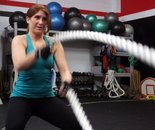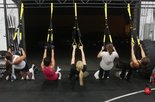 STATEN ISLAND, N.Y. — The cinder block walls of Next Level Performance in Rossville are painted black, gray and red. The workout facility doesn't have any televisions, cushy chairs, mirrors, or even exercise machines.
Here, the people are the machines as they sweat, pant and groan while performing the rigorous tasks assigned to them.
The atmosphere inside the off-the-beaten-path warehouse-turned-gym known as "the box" to those who frequent it, screams hard-core.
Danielle Senatore of Woodrow learned of the facility from her sister and boss. Told it was hard to finish the workout and that participants were even known to vomit, she wanted to find out for herself what was so terrible. She joined eight months back and now, she said, "I wouldn't go back to a regular gym."
That's the reaction business partners Juan Becerra and Chris Brown wanted when they opened their facility in November 2008. With growing interest in their type of training — membership stands at around 100 adults and growing — they recently expanded to a bigger location at 115 Industrial Loop, and are looking to bring their brand of workout to Staten Island's North Shore.
"It's for anyone who is serious about fitness. And you don't have to be 21 years old to be serious about fitness," Becerra said. "You can be 45 or 55 and just want to change the way you look, way you feel and the way you move."
"If we were able to keep everyone who came through our doors, we would be extremely successful," he said, explaining, "The problem is people don't want to do that much work."
HIGH INTENSITY
The partners, along with trainer Donald Girard, use High Intensity Interval Training (HIIT), which involves timed sets of maximum-intensity exercise followed by short intervals of rest, which act as a recovery period.
The exercises used during group circuit training also work the entire body and involve both cardiorespiratory fitness and strength training. This, the trainers noted, is different from traditional gyms that tend to focus on just cardio machines or training isolated muscle groups.
"Basically, we're forcing people to do a short burst of energy at maximum capacity to get the best results," Brown explained. "It burns fat and builds muscle more quickly," he continued. "People don't realize that by doing these exercises, they're also building up their endurance."
The gym isn't always open — the trainers have day jobs and classes are held mainly in the mornings and at night — and the workout is never the same. Each day, a Routine of the Day, or ROD, is posted on a board at the front of the class and put online in the morning.
"Muscle confusion is the key to really changing your body and getting results," Becerra said by way of explaining why it's important to change up the routine.
"Every once in awhile, we get a new person who says 'it really killed me,'" Brown chimed in. "You may work out every day, but you're probably doing the same thing over and over again and have muscle memory," he said. "We want to make sure you're reaching your full potential."
Girard, who previously owned a CrossFit affiliate on the Island, noted many of the exercises reinforce functional training, which mimics real-life movements. Exercises like basic squats and deadlifts are actions people do regularly, but have more trouble with as they age and muscles become less flexible and tonic.
"We give them back the basic foundation movements," Girard said.
FAMILY ATMOSPHERE
During a recent session, the first ROD circuit consisted of four rounds of TRX suspension training reclines, kettlebell swings, diamond sit-ups and kettlebell front squats, done for 30 seconds each with 20 seconds rest between exercises. The second circuit had kettlebell high pulls, burpees, thrusters and mountain climbers.
The atmosphere is like a boot camp, with trainers pushing participants to continue. But there's also a sense of camaraderie.
"It's like a family. We all work out together," said Sean Cusick of Huguenot, who has been a member for more than a year. "It's not like going to a regular gym where you do your routine and leave."
Newcomers Janeth Toro and Hector Nieves were going to a different gym and decided to switch up their routine. The Tottenville couple are training to get in shape for their April wedding.
"I wanted something that would really involve cardio and was not just lifting [weights] or running on a treadmill, which gets boring," Nieves said.
"I used to have to drag him to the gym. Now, he wants to come," Ms. Toro said. As for herself, "I like the sense of community. It's different than being by yourself on the elliptical."