ROD
Saturday, 04Aug12
Urban Assault (Part I) – Test your Strength & Endurance !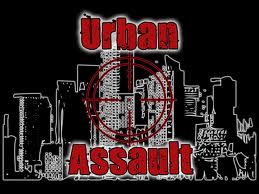 Race as an individual  or team- heats are filled based on sign up order (post individual name/team name to comments) 12 competitors  per heat. COMPETITORS WILL TRANSITION TO RUN AREA UPON COMPLETION OF THE PIT. THEN THE NEXT 12 COMPETITORS WILL ENTER THE PIT.
THE PIT
Perform the following 4 exercises for 90 seconds of work, 30 seconds of rest for maximum reps.
Box Jumps (24″)

BB Thrusters (w/50lbs – m/ 85lbs)

Burpees

KB Swings (men 20>/women16>)
Rest 3 minutes, then….. Run 4 loops around Industrial Loop AFAP  !
Total reps and run time will be tracked
 ________________________________
This Part I of our commitment to prepare anyone who is planning on particpating in the Rockaway Beach Challenge and/or the CMC in September. Even if you're not participating, come test your Strength & Endurance.
Commitment to Challenge as a Community"
Commitment – Challenge – Community
 _________________________________________
How do I post to Comments ?
• click on Register under LOGIN (see right side of page) & enter a username & email
• check your email for your username and assigned password
• click on link
• enter username, password and click remember me
• click on leave a comment