ROD
Thursday, 21Jan10
Boxing (non-contact), Tonight 8pm
1 hour punch packing boxing circuit .
Intense warm-up
Heavy bags
Target mitts
Between each heavy bag there will be these exercises:
Med-Ball Slams
Burpees
KB Thrusters
KB Swings
Squat Box Jumps
Resistance Band Tuck-in's
The last 30 seconds of each round " I Say You do"… if you don't know what that means, come to the class and find out.
Frogger (daytime class)
3 rounds for time of:
15 standing broad jumps 6ft/4ft
15 thrusters 75#/50 #
15 half burpees
Look at these handsome people. They are our H.I.I.T class members. They work hard on their fitness.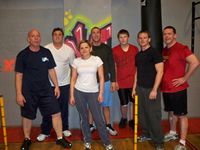 Our Boy Athlete's, these guys are getting faster and stronger.